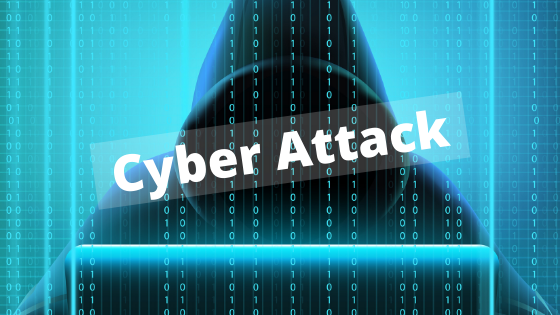 Long before computers were invented, people only had to worry about physical threats that put their safety and security at risk. But today, the world has evolved into a digital one. Computer technology has become a significant part of our daily lives. Humans rely on computers, laptops, smart phones and tablets to go about their day-to-day businesses. The evolution of computer technology has inevitably led to the emergence of cyber threats. Cyber attacks are offensives launched against computer systems within the cyberspace. They are happening now as you are reading this. If left unchecked, cyber threats could pose a series of predicaments like theft of sensitive data or network blackout. On a wider scale, this could even put our national security at stake.
As a committed local dealer for firewall, antivirus software and cloud backup solutions for small business organizations, Mewamax Solutions Sdn Bhd places great emphasis on the safety of our clients' cyber security. As a public service, we believe that it is our responsibility to educate people in recognizing cyber attacks and how to prevent them. This article recaps on some of the worst and most common types of cyber attacks that were previously discussed.
Refreshing on the Worst and Most Common Cyber Attacks
In modern day, the evolution of cyber attacks commensurate with the advancement of computer technologies. Every day, newer tactics are being developed such as malwares, phishing, email spoofing, Man-in-the-Middle and SQL injection to name a few. These nasty attacks are not something you want in your computer system for they are ready to do serious damage to your organization. Let's take a look at some of these attacks:
Ransomware
Deriving from the word 'ransom', ransomware could pose a big problem to individuals and business organizations alike. This malware encrypts the files and systems in the victims' computer, denying users from accessing them. To decrypt them, victims are usually forced to pay a ransom to recover the data.
Without reliable network security and backup to protect against these cyber threats, could you imagine what they would do to a business organization? When locked out from accessing your vital data, all operations may cease to run, loss of income would follow and clients' confidence could be shaken. As a worst-case scenario, it could ultimately put an end to the entire business. Read more about ransomware here.
Phishing Attack
"…as there have been too many fake accounts, Facebook have taken the measure to deactivate them to create a safer network community. Your Facebook account would be deactivated permanently unless you verify your personal information within 24 hours. For verification, please click here…"
This is an example of phishing. It regularly appears in the form of emails that are seemingly sent by legitimate parties. These emails often appear so convincing that it could potentially deceive victims into believing them to be genuine. It usually comes in some form of urgency to compel victims into performing an action. They would lure victims into voluntarily releasing their sensitive information like birth dates, security codes, credit card or bank account details which would be used for malicious intentions. Read more about phishing attacks and how to prevent them here.
Email Spoofing
You received an email from your 'boss' asking you to review a document immediately. You open the document and the computer system starts acting up and crashes. Normally, we would not think twice before opening an email if we recognize the sender. As the name suggests, 'spoof' means trick or imitate. Email spoofing is commonly paired with phishing whereby a faked email header or IP address is used to trick recipients into believing that the email is sent by a legitimate sender.
IP spoofing is known to be used for inserting the Denial-of-service attack (DoS) whereby it would overwhelm the computer system by flooding the servers or networks with high volume of traffic, thus resulting in users to experience crashes.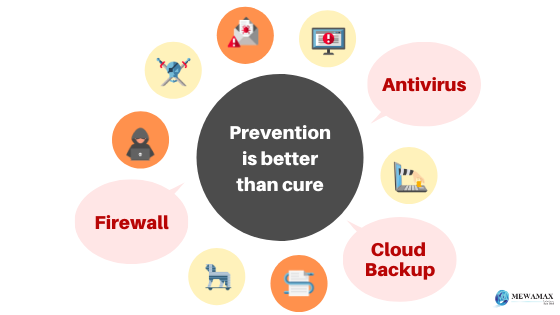 Preventing Cyber Threats
As we have always said, prevention is better than cure. While we could not completely eliminate cyber threats, we can take measures to prevent them. Ensuring the cyber security of your organization should always be made a top priority. Mewamax Solutions Sdn Bhd is an authorized dealer for reliable firewall and antivirus software like Fortinet FortiGate and Webroot Antivirus respectively.
Additionally, we also offer cloud backup software like the Acronis and Dropbox Business which serve as ideal cloud backup solutions for small business organizations. It is a good practice to back up important computer data, especially with cloud backup solutions. For small business organizations, sometimes a tighter budget could mean having to overlook a good level of network security. As a compensation, smaller business organizations could acquire a cloud backup software to safeguard computer data by remotely storing the data via an off-site server. This would ensure the recoverability of your data from any man-made or natural disasters.
Mewamax Solutions Sdn Bhd is currently having a YEAR-END PROMOTION for all our IT solutions. What better way to start a new year than to have an improved and better network security for your organization? Hurry and contact our dedicated IT specialists today at 03-6272 8031 or 017-2116534!